Cycling in Winter
Tips for Safe Cycling in Winter and Spring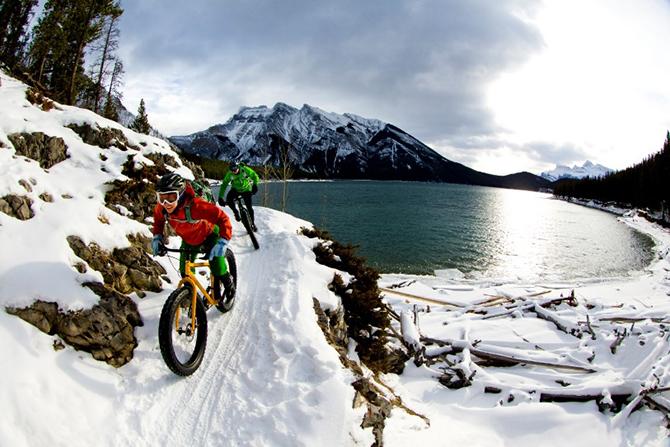 Although winter's bite dulls by the beginning of March, cyclists should still expect snow and frost in Spring. We'll show you how to enjoy your favourite sport even when the thermostat dips down. We've gathered together the most important tips and information for you, so that you can stay healthy, safe and have fun biking through Winter.
Road Bike or Mountain Bike?
Ice and snow can quickly make for subpar trail conditions, especially on roads that are open to the wind. That's why many bike enthusiasts switch to hybrid bikes or mountain bikes designed for "rough and slippery" surfaces in winter. The forest trail terrain slows speed down naturally, thereby reducing the risk of falling and cold head winds.
As a rule of thumb, you should ride slower than you would in summer, as sweat in icy temperatures cools the body more rapidly than in summer. In winter, you should limit your rides to one to two-and-a-half hours. Tip: Breathe through your nose to preheat the cold air.
In keeping with the saying, "There's no such thing as bad weather, only the wrong clothes," you should pay close attention to what you wear in winter.
The Layering Principle
Following the layering principle, we recommend wearing many thin layers. Avoid cotton, as the fabric does not dry out easily once it becomes damp with sweat. And who likes to be out and about with wet clothes in the winter, anyway?
We recommend an undershirt, a short sleeve T-shirt, a long sleeve jersey and a softshell windjacket to protect agains the elements. The layering principle is also advantageous because you can remove each layer if you get too warm. That's why you should always carry a small backpack with you in the winter. Learn more about the layering principle in the article "Jogging in Winter".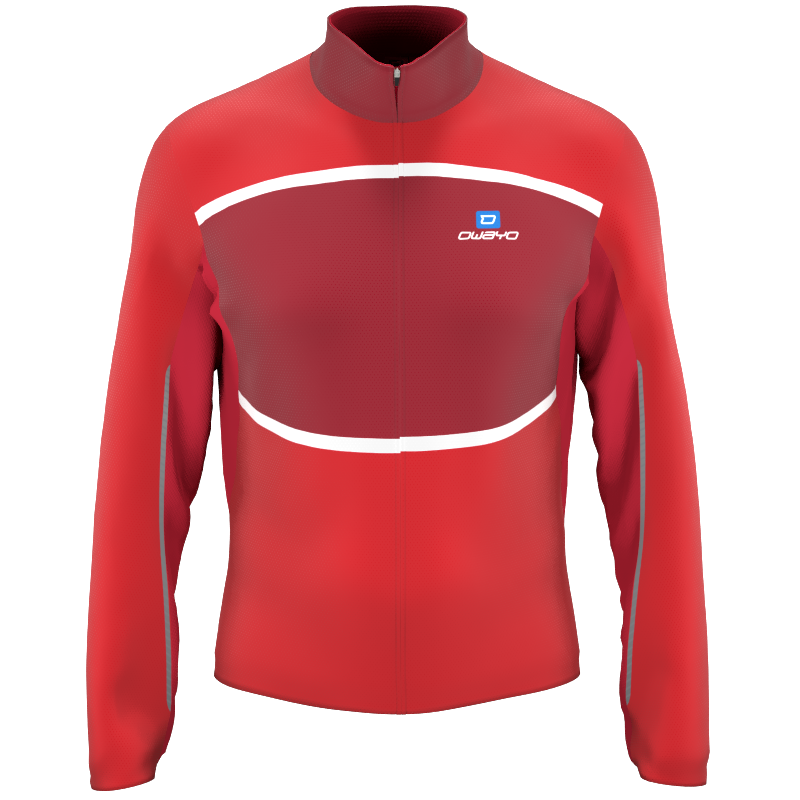 Biking in Winter: Softshell Jackets keep you Warm
If you exercise in ice and snow, you should ensure that you wear windproof and breathable clothing. The warm softshell jackets from owayo are perfectly suited for biking in the snow. Reflectors on the sleeves make sure you stay visible and safe!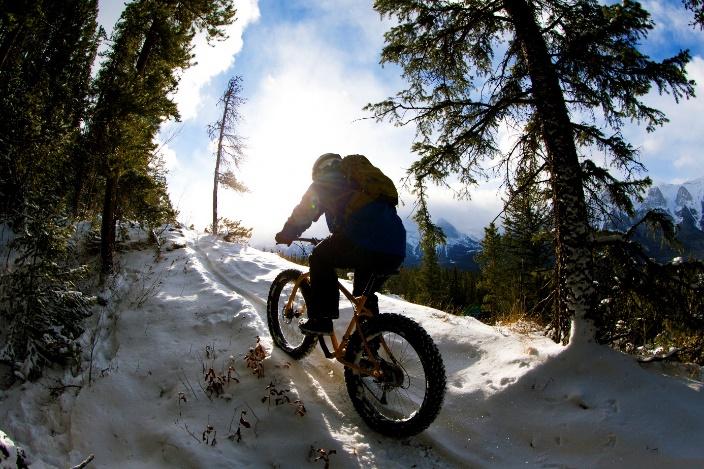 Trousers, Gloves, etc.
You should avoid wearing long cycling trousers not windproofed. Combine this with softshell pants and an additional pair of short trousers worn underneath to provide more wind protection.
Softshell underpants worn over normal cycling shorts is an unconventional but effective solution. They are much cheaper than long softshell trousers and should be bought one or two sizes larger so that you can use them as your final layer.
The same applies to gloves. They must also be windproof. Many cyclists even wear motorcycle gloves in winter for added protection. Mittens also provide better protection from the cold.
However, mittens limit the feeling of braking, which is why you can also use three-fingered gloves. The gloves should always be well lined.
Warm from Head to Toe
Insulating and warm insoles help prevent cold feet. Putting a hot pack under your socks can help keep them warm for up to 4 hours.
Your body loses most of its heat through your head, so wearing a cap underneath your helmet is essential when riding in cold temperatures. Adjust your helmet so that it doesn't sit too high on your head.
If it is raining, you can also put a special cover over the helmet. A headband and face mask provide additional warmth.
To ensure all-round protection from the cold, specialist shops offer special neck scarves made of fleece or merino. These keep your neck and throat comfortably warm. Arm warmers, leg warmers and knee warmers are also favourites among cyclists.

Especially in winter, the main thing to remember is safety first! You should adapt not just your clothes, but also your tyres and riding style to the changing weather.
Winter Tyres and Spikes
Even hobby cyclists who don't own a mountain bike need not give up riding if the cycle path hasn't been cleared of snow. Bike shops offer winter and studded tyres for such wintry conditions. You can ride relatively safely on ice and snow by using studded tyres.
If you plan to ride regularly in the snow, you should contemplate getting a fat bike. This new all-terrain expedition bike has extremely thick tyres that make it easy to ride off-road.
How to Turn while Cycling on Ice and Snow
Immediately after entering the bend, locate its exit and throttle your speed so as not to slip. Slow down in good time so you don't waste your grip on the braking manoeuvre. You should assume a relaxed posture. Never engage the front brake while turning.
The technique is practically the same as when on loose gravel. Shift your weight slightly backwards to the inside of the turn. This presses the tyres into the snow and gives you added stability.
Your weight should be distributed evenly over both tyres when the centre of gravity is placed over the central bottom bracket. The upper body moves towards the front wheel and the arms are slightly angled.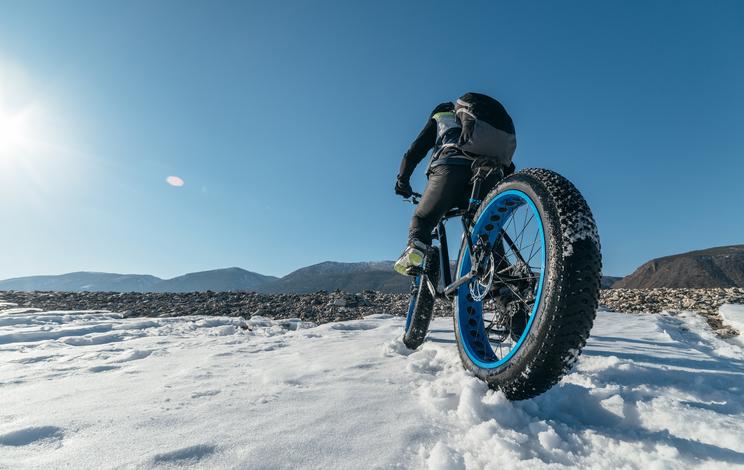 Not for the Occasional Cyclist
Important: Always be prepared to catch yourself with a free foot. If the bike starts slipping underneath you, you can then catch yourself to avoid a fall.
After having passed the crest of the curve, set yourself in an upright position again. A lot of careful feeling is needed to build the grip between tyre and surface. It's best to press the bike firmly on the ground with your arms and legs and steer whenever you feel you are losing your grip. Your centre of gravity should be above the nose of the saddle.
After successfully rounding the curve, return to the basic upright cycling position. Accelerate slowly so that your rear tyre does not slip or spin.
We hope we have been able to give you some helpful tips and wish you a warm and safe winter season.
Images: Cover image: ©istock/GibsonPictures, Image 1: ©istock/GibsonPictures, Image 2: ©istock/GibsonPictures, Image 4: ©istock/ivandan