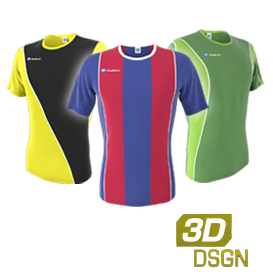 Easy to use 3D Designer
Thanks to our new owayo 3D Designer, creating your own football sportswear and apperal has never been easier.
owayo is an official supplier for professional sports and events worldwide
Create your own football kit
Individual Football Jerseys are our specialty. To help speed up the process of getting your hands on your own football jerseys, we've come up with a few tips.
Here's how to make your own football jerseys
Design your own jerseys - your very own kit in three steps.
Open our 3D Designer and pick your desired product.
Pick and choose between numerous designs and over 50 colours.
Place your logos, texts and sponsors where you want on the jersey.
Here's how to Order
First, create your design in our 3D Designer. Then Order Samples. Once you've decided what Sizes you'd like, place the draft in the 3D Designer shopping cart. After submitting the design, we'll see if there are any issues. Then we'll resend you the order via email to confirm. After a short Production Period, the jerseys will be in your hands.
Contact Us
We're here to help. Whether questions about the material or lead time, we'll help you further. You can reach us by phone or email. From the 3D Designer, you can also send us an online enquiry. If you'd like to create a special design, our Design Team can help you further.