Details

Colours

Prices and Lead Times

Sizes
Colours and Combinations
owayo basketball socks are available in solid black or white.
Colour and Fabric Samples
Please be aware that the colour saturation and appearance on your monitor/screen is not always true to what the colour looks like when printed. The perception of colour is dependent on the device settings and thus may appear different to the final results, which is why we offer and also recommend to send your colour and fabric samples for FREE. This ensures that there are only pleasant surprises when the final products arrive.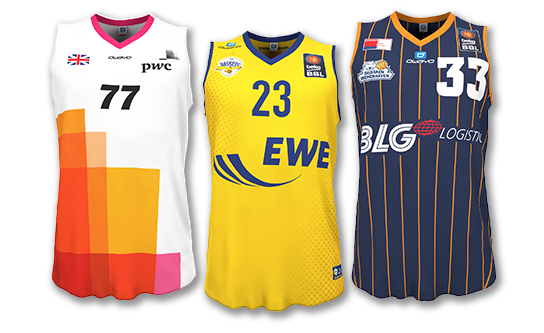 Corporate Identity Colours
We can upload your CI colours into your 3D designer profile to ensure you can complete your design. Simply click on the button below to request your special colours.
Special Colours
Pantone, HKS, RAL
Go to top
Customer reviews
4.9 out of 5
7 Customer reviews
14.11.2014
Superb contact throughout with instant replies to any questions or merely acknowledging actions taken from customer. The product quality is exceptional.
14.09.2021
Réponses obtenues rapidement, proposition d'échantillons et personnalisation des tenues très bien réalisée, très rapidement et avec de très bon conseils.
13.05.2017
Bon conseil. Délais respectés. Bon rapport qualité prix. Outil de configuration pratique et simple.
13.10.2016
Toller Sevice, einfache sehr flexible Abwicklung, tolles Produkt.
08.05.2014
Sehr schnelle und kompetente Auftragsabwicklung!
28.01.2014
Souveräner, netter Kontakt. Angenehme Kommunikation und Offerterstellung. Die Produkte Lieferung auf den Tag genau und besser als vorgestellt! Kann ich nur empfehlen. Wir haben helle Freude an unseren Basketball-Dresses! Grüsse aus der Schweiz.
21.01.2016
Zeer vriendelijke en snelle service. Bovendien was de prijs ook laag. Voor mijn vereniging was het bovendien ook belangrijk dat Owayo zelf drukker was (dus geen tussenpersoon). Onze club heeft binnen enkele dagen paskleding ontvangen. Ons ontwerp is als een set van losse sjablonen (als vector opgeslagen) aangeleverd en schetsen met onze visie. Binnen een dag kreeg ik een link naar de eerste 3D render. Op de website is dagelijks zichtbaar wanneer het drukken klaar is. In ons geval was het vier weken na goedkeuring van het ontwerp (inclusief kerst en nieuwjaar tussendoor). Enige minpunt is dat het niet erg eenduidig is welke kortingen wanneer toegepast kunnen worden. Het makkelijkst is om een offerte aan te vragen.